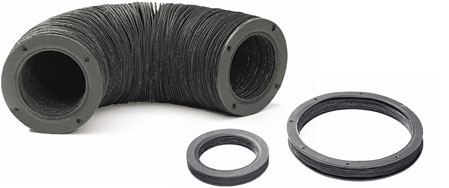 Characteristics
Made from a core of rigid polyamide fabric with layers of PVC on either side.
These systems are applied to protect spindles, shafts and columns and the optical fibre in laser machines.
Parts of the circular bellows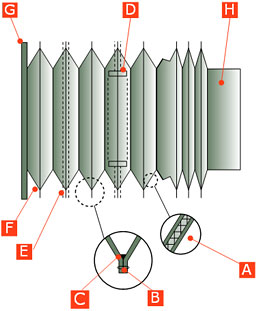 Nylon fabric with layers of PVC.
Stitching.
Silicon coating.
PVC slides.
Steel hoop for large bellows.
Air outlet holes.
Support for fastening bellows to machine.
Collar for fastening to the machine.
Opening systems
For very heavy vertical protective elements, tecnifuelle has a number of opening systems: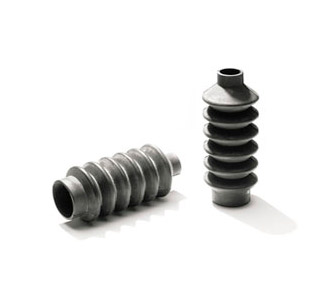 SYSTEM 1
Stretching device using staples located on the support frame, on as many folds as required, depending on the size of the bellows.
SYSTEM 2
Scissors-type stretching device, ideal for elements that are not guided by the intermediary frames.
Information on working conditions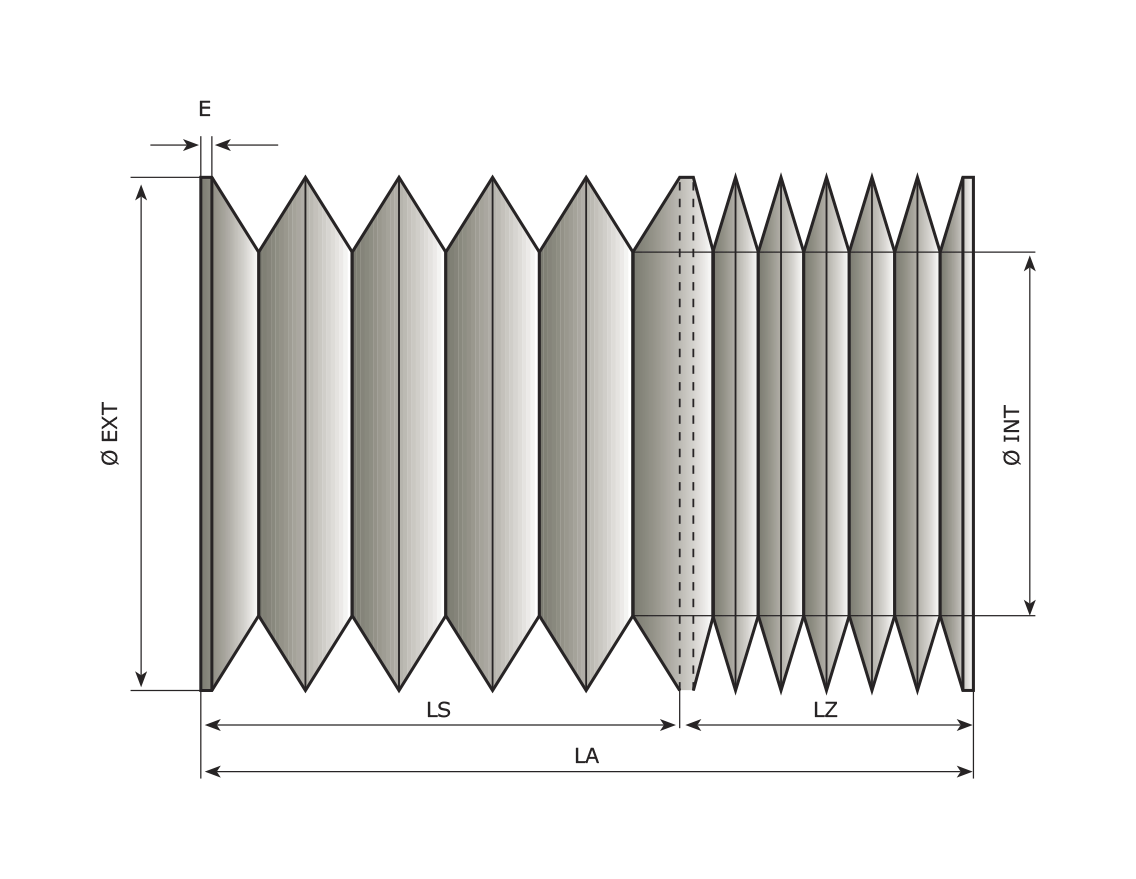 Sketch of arrangement for fastening external frames.
(Flat at one end and collar at the other)
(Flat at both ends)
(Collar at both ends)
Fabrics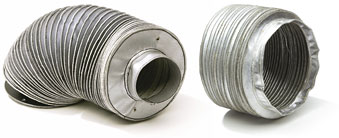 FT: Heat-welded bellows
FC: Stitched bellows
Temperature ºC
Ref.
material
Type of fabric and coating
Thickness
(mm)
Temporary
Continuous
Operating conditions
FT
FC
Min
Max
TPP-23
POLIESTER + PVC
0,23
110
-25
70
DUST GUARD,
ACID MEDIUMS
USABLE
USABLE
TPP-35
POLIESTER + PVC
0,35
110
-25
70
DUST GUARD,
ACID MEDIUMS
USABLE
USABLE
TPP-60
POLIESTER + PVC
0,6
110
-25
70
DUST GUARD,
ACID MEDIUMS
USABLE
TPP-100
POLIESTER + PVC
1
110
-25
70
DUST GUARD,
ACID MEDIUMS
USABLE
TPPU-23
POLIESTER + POLYURETHANE
0,23
220
-25
150
RESISTANT TO OILS IN
EMULSION AND GREASE
USABLE
USABLE
TPPU-35
POLIESTER + POLYURETHANE
0,35
220
-25
150
RESISTANT TO OILS IN
EMULSION AND GREASE
USABLE
USABLE
TPPU-60
POLIESTER + POLYURETHANE
0,60
220
-25
150
RESISTANT TO OILS IN
EMULSION AND GREASE
USABLE
TPHY-50
POLIESTER + HYPALON
0,50
250
-15
140
RESISTANT TO MINERAL
OIL, GREASE
USABLE
TPHY-100
POLIESTER + HYPALON
1
250
-15
140
RESISTANT TO MINERAL
OIL, GREASE
USABLE
TNPU-35
NOMEX + POLYURETHANE
0,35
400
-30
200
HOT SWARF,
LASER BEAMS, OILS
USABLE
USABLE
TARPU-35
ARAMIDE + POLYURETHANE
0,35
400
-20
200
HOT SWARF,
OILS, GREASE
USABLE
USABLE
TFVS-35
FIBREGLASS +
SILICONING + PVC
0,35
400
-40
250
FOR HIGH TEMPERATURES CYLINDERS, CEILINGS...
USABLE
USABLE
TFCAL-35
CARBON FIBRE + ALUMINIUM
0,35
500
-40
280
FOR HIGH TEMPERATURES
USABLE
TFVV-35
FIBREGLASS + VITON + POLYURETHANE
0,35
600
-40
280
FOR HIGH TEMPERATURES
USABLE
USABLE