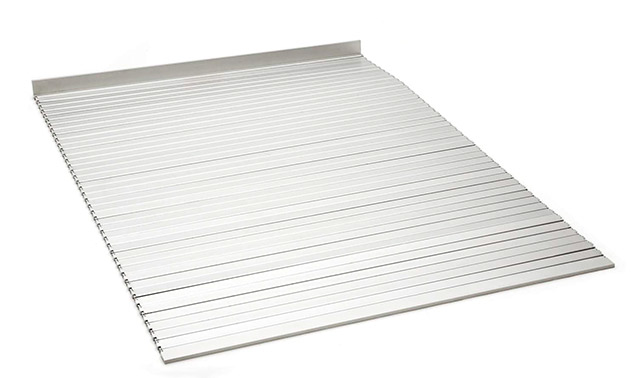 Made with a core of tear-resistant polyester fabric, covered on either side with a PVC material. In this mechanism, the core fabric can be protected on either face with steel flats, brass flats or aluminium flats, to protect it against high temperatures and mechanicaltype impact.
Properties
Sturdily built, in sheet form.
Resistant to hot chips (contact heat of up to 300ºC) oil, grease, cooling agents, etc. No special guide is normally needed.
Fastening systems
Using end fastening pieces.
Using an angular section in combination with end parts.
Using a hinge in combination with end parts.
Advantages
Protection on guides where there is no room to install a telescopic protection system.
Protection for situations of heavy chip volume.
Simple and quick to assemble.
Long life.
Construction systems
Steel - Steel
Steel - Brass
Aluminium - Aluminium
Dimensions
Manufactured in all measurementsdepending on specifics needs. Minimum winding radius: 40 mm.